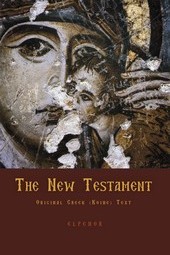 Christ uses both hands to draw Adam and Eve out of the grave, this central scene being flanked by two groups of kings and prophets. Against the background of a dark blue mandorla with red rays, Christ tramples the broken gates of Hades, who is portrayed bound in chains in the cave, with flames emerging from his maw. On the gold field is the inscription: 'The Anastasis'. Two rocks in the upper corners of the icon denote the landscape, with an angel paying homage on the left-hand side.

The iconographical format of this scene, with Christ in between Adam and Eve and holding them by the hand, is found mainly in fourteenth-century works. In Cretan works of the post-Byzantine period, the commonest arrangement has Adam and Eve on one side of the composition (Baltoyanni 1985, no. 93).

On the back of the icon is an Anastasis cross, painted red, and accompanied by the symbols of Christ's Passion, the spear and the sponge, and the inscription 'Jesus Christ Conquers'. In the upper part, there is a dedicatory inscription in black lettering, with the date: '+ Δέησις του Δούλου του Θ(ΕΟ)Υ ...κεινου ιερομονάχου/ ΕΤΕΙ ΑΠΟ Χ(ΡΙΣΤΟ)Υ ΑΧ.Α' (Supplication of the servant of the Lord [...]keinos, hieromonk, in the year of Our Lord 1691).

The modelling of the figures with the dark underpainting and limited highlights, and the red and golden yellow contrasting with the dark greenish-blue are a late seventeenth-century continuation of a tradition in Athonite painting (cf. the Koutloumousiou icon of the Koimesis), though the rendering has become drier and more stylised and the figures have acquired a more vernacular style.