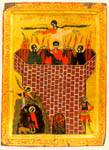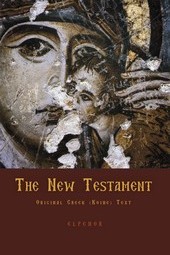 A small devotional icon showing the rarely depicted Old Testament theme of the Three Youths in the fiery furnace and Daniel in the lion's den (Daniel 3, 6). The greater part of the icon is taken up by the unnaturally tall brick furnace of Nebuchadnezzar, from the widened opening of which rise flames and the figures of the three youths of Babylon, Hananiah, Azariah and Mishael, according to the accompanying inscriptions. Behind Azariah stands an angel with spread wings, holding crowns.

In the lower part of the icon stands the soldier stoking the fire for the furnace, and in a separate scene the Prophet Habakkuk, transported by an angel, brings nourishment to Daniel during his night of trial in the lion's den.

Both these subjects were popular in Christian art from the earliest times (LCI, 1 [1968], pp. 469-73 and LCI, 2 [1970], pp. 464-66]. In the examples found in the Athonite wall-paintings, in the katholikon of Vatopedi (1312), the katholikon of the Great Lavra (1535) and in Molyvokklesia (1536), the figures of the angel and the three youths dominate, and the furnace is a low structure without a soldier to tend the fire. The Painter's Manual (Dionysios of Fourna 1909, pp. 69-71) recommends that these two themes be depicted separately. The dark underpainting used in modelling the flesh, the figure of the soldier with his pointed moustache, the asymmetric proportions and the continuous foliate ornamentation of the border can attribute the icon to an eighteenth-century Athonite workshop.