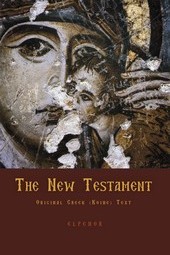 The three scenes are separated by carved columns decorated with a twining tendril, and the ends of the epistyle are defined by two carved spiral half-columns.

The first scene shows two confronted angels hovering on a gold ground, holding a crown between them. The absence of an explanatory inscription, coupled with the similarity between these and the angels in the next scene, the Assumption of St John the Theologian, suggests that the two scenes are connected.

The seldom seen iconographical subject of the Assumption of St John the Theologian, which has its source in an apocryphal text (Patrinelis - Karakatsani - Theochari 1974, p. 129. Chatzidakis 1985, no. 64), shows the saint being buried by two of his disciples in the lower part of the composition, with an inscription in red lettering along the upper edge of the grave: 'The Koimesis of the Theologian'.

Two stylised, though softly rendered, hills flank the landscape of the scene, the treatment of which is quite different from that of earlier known examples.

In the upper part, the Theologian is portrayed on a gold ground in a circular glory held by two angels, and a second inscription explains: 'The Assumption of John the Theologian'.

In the next compartment, with the Birth of John the Forerunner, Elizabeth is sitting up in a bed with a red cover and looking towards the baby's cradle at the bottom right, where a maidservant keeps watch, spinning the while. Elizabeth herself is being attended to by three maidservants, who are standing behind a table with a variety of utensils on it. To the left of the scene sits Zacharias, writing the child's name on a tablet: 'John'. Simple buildings form the backdrop to the scene, and on the gold ground is the inscription: 'The Birth of John the Forerunner'.

With its unsophisticated iconography of familiar subjects, its fondness for red and gold, the soft, but fairly stylised and conventional, modelling, and the popularised figures, this icon continues the tradition of seventeenth-century Athonite works, some of which are presented in this catalogue. It may be dated to the first half of the eighteenth century.