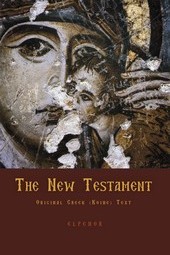 The bust of the saint is depicted, to be precise just the head and beard, and a few lines to suggest his left shoulder. The paper is damaged on the right side, especially in the middle. There are two minuscule inscriptions in black ink, one at the top 'St Athanasios' and one at the level of the saint's neck on the right in two lines, with essentially the same content 'St Athanasios the Athonite'.

The saint is portrayed with short hair and a full flowing beard that falls in open curls to his chest. The head is too large for the shoulder that has been sketched in (later?). It was clearly the artist's intention to do a study of a saint's portrait, not necessarily that of St Athanasios in particular, in order to be used as a model for a mid-sixteenth-century icon.

The artist began with a rough outline on the paper, then he used a layer of yellow hue. A kind of underpainting was then applied in a pink tint, and the work was completed with black, grey and white lines, thus creating a picture with limited chromatic treatment.

The execution is of high quality, attesting to the artist's ability to produce the expressive force of a saint's physiognomy even in a sketch. The black and white curved lines of varying thickness and length suggest a connection between this sketch and the sixteenth century fresco compositions on Mount Athos, and especially these in the Great Lavra (1535), Dionysiou (1547) and Molyvokklesia (1536) (Millet 1927, pls. 145-8, 158, 212-14).