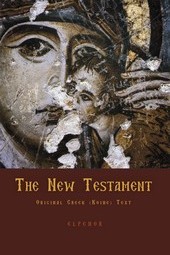 This manuscript contains the Four Gospels in order prefaced by the canon tables. The single-column text of nineteen lines per page is carefully written in minuscule script, with red-gold titles. The binding consists of two wooden boards covered with red velvet.

A later note on folio 323r mentions that the manuscript belongs to the Monastery of Karakalou, of the Holy Apostles Peter and Paul.

The manuscript is illuminated with rectangular or band-shaped headpieces and simple initials with foliate decoration within the text, and full-page pictures of the Evangelists before the opening page of their Gospels, Matthew (fol. 1v), Mark (fol. 92v), Luke (fol. 153v) and John (fol. 253v).

Although the types of the seated Evangelists retain elements of the twelfth-century art, the robes and faces are rendered in a more advanced style. In particular the bulky body of John, his face and drapery belong to the thirteenth century. Despite the high quality of execution, the illumination must be attributed to a good provincial workshop, which copied Constantinopolitan models without possessing, however, the capital's skill.