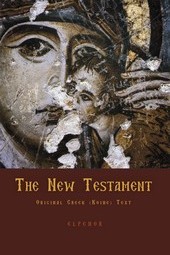 The manuscript contains the Gospel lections for the whole year (fol. 2r), the Menologion lections (fol. 263r) and the eleven Eothina lections (292v). The single-column text of twenty lines per page is written in black ink, with red titles and marginal notes. The binding is wood with a silver-gilt cover portraying the Crucifixion on the front and Christ with the Apostles Peter and Paul on the back.

A note on folio 301v mentions that a mistake was made during binding, that the book belongs to the Monastery of the Holy Apostles, Karakalou, that it was commissioned by a certain Asotan in memory of his parents and that the manuscript is the work of the Hieromonk Damaskinos the 'Iberian (Georgian) and hatzis'. In the miniatures of the Evangelists and the books displayed on their lecterns the texts are Georgian.

The full-page miniatures of the Evangelists John (fol. 1v), Matthew (fol. 45v), Luke (fol. 122v) and Mark (fol. 206v) demonstrate the continuity of iconographic tradition. The manuscript also has a headpiece and one initial letter E (fol. 2r). Space has been provided for three more headpieces (fol. 46r, fol. 123r and fol. 207r), which, however, have not been executed.

The style of illumination is that of the first half of the eighteenth century, decorative and brilliant, due to the use of gold, reminiscent of the Palaeologan art. The manuscript is important, as it demonstrates the continuity of manuscript illumination into the eighteenth century, the link between Mount Athos and Iberia (Georgia) and the likelihood that it was made on Mount Athos or in Thessaloniki.