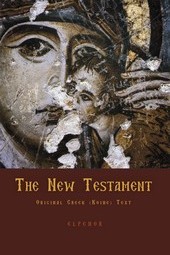 The fountain is on two levels. On the deeper one is a representation of a wash-basin and jug on a bench. Branches and flowers sprout out of the openings of the jug. The representation is in a frame, the top of which forms an Islamic arch and at the base is the tap, the whole surrounded by a scroll pattern.

The outer level surrounds the first, with two slender columns surmounted by a somewhat flattened trefoil arch. The rest is covered with dense interlacing vegetal designs. Moving upwards now, full-length angels are depicted in a frontal pose on a rectangular plaque, holding open a scroll with the inscription: 'Wash thy sins, not thy face alone'. At the same time, they hold a bishop's mitre over a two-headed eagle with wings ιployιes; it clutches the royal symbols of orb and sceptre and is surrounded by a kind of semicircular glory. The bird's tail divides the lower cornice and the inscription on it into two sections of three lines each: "Ιρός Ναθαναήλ προυγούμενος Ξιβερίων / ανήρ άδολος ος τούμπαλαι ο (Ι)σραϊλίτης / εξ πολίδος Σμύρνης .../ μονής άριστης π(ατ)έρων Ιβήρων ... / μνημοσύν[ου] χάριν ... / ...καθαρω ...1735" (The holy Nathaniel, prior of Iviron Monastery, an honest man like the Israelite of yore, from the city of Smyrna ... of the excellent Monastery of the fathers of Iviron ... in remembrance ... cleanse ... 1735). The whole of this more prominent level is surrounded by a double frame, the inner one fringed with stylised fruits, and the outer one with foliar motifs within intersecting arches.

The superstructure of the fountain, finally, which is a projecting separate piece of marble, depicts a cherub in the centre and anthropomorphic suns in the corners. Along the top is a cornice of contiguous crosses, along the bottom a perforated lace-like ornament.

This is a fine piece of workmanship, showing a notable sense of composition dominated by the horror vacui which causes every surface to be covered. The strong Islamic influence evident in the lower section, with its interlacing vegetal ornaments and the floriferous jug (a common theme in both Epirot and Skyrian coloured embroidery), joins with, and is animated by, the traditional and religious motifs in the upper section and the superstructure.

As regards the representations, it should be noted that, within its polysemous symbolism, the fact that the two-headed eagle is being crowned by angels alludes to the scholarly interpretation of the two heads as symbolising the dual nature of Christ (Lambros 1909, pp. 467-8). There is a similar symbolism in the haloes around the two heads in other stone reliefs, as, for instance, in the katholika of Xeropotamou (external closure panels, 1763) and Xenophontos (wall plaque, 1819). The angels too - like the cherub above -, in addition to their devotional aspect, are not lacking in protective and deterrent powers as the supernatural guardians of the fountain. Lastly, the personification of the sun in folk art reflects the belief that it is a being with human attributes, and its radial halo brings ancient solar deities to mind.