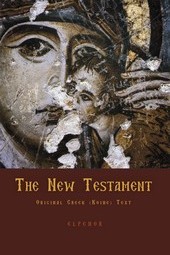 These bema doors were in the kalyve of St Haralambos, which belongs to the New Skete. After the recent death of the last resident, they were transferred to the sovereign Monastery of St Paul. No-one knows which church they originally came from.

The decoration is mixed - painted and carved - and the doors consist of two solid pieces terminating at the top in imperfect quadrants edged with intersecting semicircles and zigzag patterns. The central strip between them resembles a spiral colonnette, with rosettes and guilloches in the middle and at the ends. The greater part of each door is taken up by painted representations: in the central sections, St Peter on the left and St Paul on the right; and the Annunciation in the quadrants, with Gabriel on the left and the Virgin on the right. Behind the Virgin and Gabriel are two buildings, with a prophet depicted from the waist up on each one. There is little carved decoration. The main, rectangular section of each door is divided by a rope-like ornament into two parts, a narrow one below, decorated with relief heart-shaped ornaments, and one above, with zigzag strips along the outer edges and topped by two opposed spiral tendrils enclosing palmettes. The lettering in the representations is in the Slavonic script of Romania.

The carved areas are not only limited, they are also somewhat unsophisticated in style. They make an attempt at symmetry and display a mixture of techniques: some parts are almost flat - the heart-shaped ornaments in the lower section, which are reminiscent of earlier works (Papatheophanous-Tsouri 1995, figs. 10-13) - while in others (the palmette tendrils over the figures of Peter and Paul) the relief is low, smooth, and semicircular in section. This latter technique is also seen in the accurately dated (1591) iconostasis in the Church of St Nicholas at Velvendo (Makris 1969, p. 61. Tsaparlis 1980, pp. 26-8), in the almost contemporary iconostases in the Church of the Virgin at Kastraki, Kalambaka prefecture, and the Church of the Virgin at Aiani, Kozani prefecture, and also on a bema door in Kastoria Museum. It reflects trends that were prevalent in Macedonia, Epirus, Thessaloniki (Nikonanos 1995, p. 223), and former Yugoslavia (Corovic-Ljubinkovic 1965, pls. XVII, XVIII, XIX, XX, XXI, etc.).