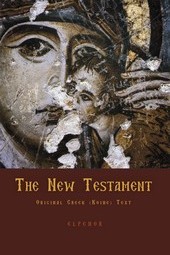 On one side of this diptych are two carved wooden icons in ornate gemmed mounts, and on the other silver gilt plaques with a dedicatory inscription in Serbian. The two wings are joined by a pair of oval links, while a ring set into the middle of the top side of each wing enables the diptych to be worn as a pectoral. The majuscule inscription is written in metrical form, ten lines on each wing, each line doubly underscored and each wing beginning with a cross and ending with a fleur-de-lis. The poem, written by Queen Helen, expresses her grief at the death of her son, who is buried in the monastery (Trifunovic 1984, pp. 35 ff.).

The icon on the right wing contains an oval medallion with the Virgin and Child, enthroned, framed by a twisting vine that forms a series of smaller medallions, each containing the bust of a man holding an open scroll; these are most probably prophets, the whole representing the composite subject of the 'Prophets from above'. On the left wing, matching medallions with prophets frame the scene of the Hospitality of Abraham. Despite the small scale, the figures and the iconographic details are rendered with meticulous care. The technique involves a combination of carving and perforation, but the work is too small to allow comments on style.

This iconographic programme was a common one in the seventeenth century for enkolpia-panagiaria intended not solely for liturgical use but also to be worn as pectorals by prelates: such examples include the two carved wooden enkolpia-panagiaria of 1670 in the Monastery of Vatopedi (Ballian 1996, p. 512, figs. 452-5). Similar gemmed frames, with stones set in heavy, raised mounts and pearls affixed by tiny nails, are also found in seventeenth-century works.

This enkolpion was a gift from the Metropolitan of Serres to Ugljesa Despotovic; his mother, Helen, who later became a nun under the name Euphemia, added the silver-gilt mount on which the poem was carved in champlevι technique. For about 10 years Mount Athos was part of the domains of Helen's husband, the fourteenth-century Despot of Serres Jovan Ugljesa, a member of the Mrnjavchevic family and founder of the Monastery of Simonopetra. The text on the diptych is the earliest known poem by Queen Helen, who donated to the monastery a number of other treasures, including a gold-embroidered veil also bearing a poem of her composition (1399) (Bogdanovic - Djuric - Medakovic 1978, p. 120). The famous Poganovo double-sided icon also belonged to Queen Helen (Subotic 1993, pp. 25-40).