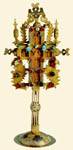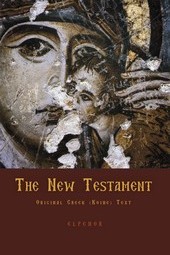 Represented on one side of this wooden cross are the Baptism, flanked right and left by Evangelists, with the Annunciation above and the Man of Sorrows below; in the same positions on the other side are the Crucifixion, Evangelists, the Presentation in the Temple and the Anastasis. In the Crucifixion on the vertical arm of the cross is the signature of the sculptor: 'ΠΗΜ(Α) Γ(Α)Β(ΡΙ)ΗΛ' (Work of Gabriel). Ornamenting the silver gilt mount are vine scrolls with floral motifs, tiny daisies, glass-paste stones, turquoises and pearls. Attached to the lower lateral surfaces are laminate metal plaques in the shape of foliate dragons. Smaller dragons, similar in style, spring from the six-winged seraph surmounting the vertical arm and curve down to the upper surface of the horizontal arm; in their mouths they hold tiny lanterns surmounted by crosses. The narrow strips forming the shaft appear to have been braided into a collet halfway down. At the bottom they disappear into a polygonal knob secured to a round base, on which multi-lobed medallions with flowering tendrils accented with niello alternate with gilded surfaces decorated with tiny daisies. Around the edge of the base runs the inscription: '+ ΓΕΔΕΩΝ. 1669 ΜΗΝΙΟΥ ΝΟΕΜΒΡΗΟΥ: ΚΒ' (Gedeon. 1669 Month of November: 22).

This type of cross, with lateral dragons made either of metal or of metal-mounted wood, was very popular and appeared in a number of variants from the late sixteenth century on (Greek Documents, no. 56, pp. 84-5. Ikonomaki-Papadopoulos 1988, p. 227, fig. 21. Ikonomaki-Papadopoulos 1990, p. 270, fig. 26). Although denatured, the dragons on the Xeropotamou cross still retain some of their original characteristics; in many other pieces they have degenerated into nothing more than foliate adjunctions only very vaguely reminiscent of dragons (Ikonomaki-Papadopoulos 1990, p. 275, fig. 35. Ballian 1996, p. 513, fig. 456). The sharp colour contrasts characteristic of Ottoman art are here expressed in the alternation of gleaming gilt surfaces and panels with delicate scrollwork highlighted with niello (Tesoros del Kremlin 1990, no. 36. Ikonomaki-Papadopoulos 1990, p. 273, fig. 23). On Mount Athos, this style is seen in numerous works from the second half of the seventeenth century. In a number of details the Xeropotamou cross closely resembles two contemporary crosses in the Vatopedi Monastery (Ballian 1996, pp. 508, 512, figs. 450-1). The decorative concept that inspired these works spread well beyond the borders of the Ottoman Empire, becoming extremely popular in Russia when it was introduced to that country by emigrant Greek goldsmiths from Constantinople (Postnikova-Loseva et al. 1983, p. 76. Bobrovnickaja-Martynova 1989 p. 23 and no. 36).

In 1671 the donor of this sanctification cross, the hieromonk Gedeon, gave the monastery a second, similar one, apparently the work of the wood-carver Gabriel and the same goldsmith. A book cover decorated with scenes from the Apocalypse, also in the Monastery of Xeropotamou, was probably donated by Gedeon as well.