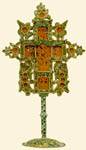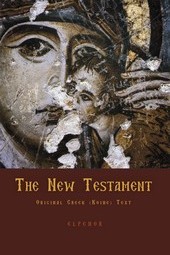 Carved on one side of this cross is the scene of the Baptism, with a pair of Evangelists left and right, the Presentation in the Temple above and the Transfiguration below. Adjunctions on the ends of the crossarms and in the upper corners frame busts of prophets, while another surmounting the cross displays Christ in the type of the Angel of the Great Will. On the reverse, the corresponding positions are occupied by the Crucifixion, Evangelists, the Presentation in the Temple, the Anastasis and prophets. A pair of wooden dragons bearing medallions with prophets and angels occupy the area beneath the horizontal arms. All the surfaces of this silver-gilt mount are covered with filigree ornamentation in mainly floral motifs, filled with enamel in a rainbow of colours. Inscribed inside the base is the inscription '+ Ο ΠΑΡΟΝ ΣΤΑ(Υ)ΡΟΣ ΥΠΑΡΧΙ ΤΗΣ ΜΟΝΗΣ ΤΟΝ ΙΒΗΡΟΝ ΚΑΙ ΕΓΓΟΣΜΙΘΗ ΕΝ ΤΗ ΜΟΣΧΟΒΗΑ ΠΑΡΑ ΤΟΥ ΠΡΟΥΓΟΥΜΕΝΟΥ/ ΚΥΡ ΑΚΑΚΙΟΥ ΤΟΥ ΓΑΛΑΤΖΙΑΝΟΥ ΕΤΟΣ/ αψζ( ΙΟΥΝΙΟΥ Η' (This cross belongs to the Monastery of Iviron and was embellished in Moscow by its Hegumen Master Akakios Galatzianos in the year 1707 on the 8th of June).

Documentary evidence tells us that wooden crosses of a similar type had been used on Mount Athos as altar and processional crosses since the late sixteenth or early seventeenth century (Greek Documents 1995, no. 56, pp. 84-5, and nos. 57-9, pp. 85-8). The cross from the Iviron Monastery, although somewhat smaller than usual, falls into this category. On the basis of existing examples, however, and without further local research, more extensive observations are impossible.

Seventeenth-century Russian filigree enamels generally display a wide range of colours and a considerable variety of techniques: both these features are in evidence here. The colourful enamelwork - the emerald, characteristic of the sixteenth-century tradition, blending with raised areas of blue, green, white and black - stands out against the gilt ground; and the strong colour contrasts created are heightened by deft overpainting with yellow and deep violet brushstrokes (Kaljazina et al. 1987, pp. 16-17, fig. 18. Pissarskaia 1974, no. 46, p. 84). The cluster of white enamel dots on the adjunctions on the ends of the arms look like small pearls. This technique, characterised by cast ornaments set in enamels, has been applied mainly on the lateral surfaces and the base of the cross (Kaljazina et al. 1987, p. 17, figs. 15, 17). Moscow, the Kremlin workshops in particular, produced magnificent works of art, not only pieces destined for the members of the imperial family, but countless others as well, articles both secular and ecclesiastical, which today adorn Orthodox sacristies in places including the Monastery of Iviron, the Monastery of St John on the island of Patmos, and the Putna Monastery in Romania (Ikonomaki-Papadopoulos 1988, p. 233, fig. 20). The donor of this cross, 'Master Akakios the musician', from Galatista, was the hegumen of the Monastery of St Nicholas, an Iviron metochi in Moscow, from March 1699 to December 1706 (Gedeon 1906 and 1912, pp. 36, 40).