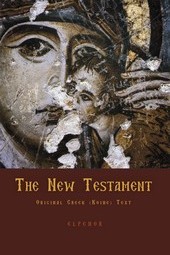 Each of these cast silver candlesticks has a slender stem fixed to a circular base and surmounted by a cross. Blossoming branches - two on one candlestick and three on the other - spring from each stem and terminate to sockets shaped like rosebuds, from which only the lower part has survived.

Dikerotrikera such as these were usually ornamented with dragons, the candle sockets either held in their mouths (17th c.) or balanced on their heads (18th c.). The oldest have either no base at all, or a very rudimentary one: this is seen in certain pieces in the Piva Monastery in Montenegro, for example, or in the Church of the Koimesis in Lindos on the island of Rhodes (Skovran 1980, no. 44, pp. 245-6). Here, in these dikerotrikera from the Skete of St Anne, there are no dragons, the sockets are of an older type, and the bases are probably not original, for they are of decidedly inferior quality. However, a number of technical and decorative details, such as the open flowers and the delicate tendrils, suggest a probable date in the first half of the eighteenth century, although the lack of similar pieces for comparison precludes any certainty (Koutelakis 1996, fig. 44).

The two dikeria (with two branches) symbolize the dual nature of Christ, and the trikeria (with three branches) the Holy Trinity; with these the officiating bishop blesses the congregation after the chanting of the Sanctus (Kourkoulas 1991, p. 74). Oral tradition ascribes this pair to Patriarch Cyril V Karakalos (1748-51 and 1752-7) who retired to the Kalyve of Hagioi Apostoloi, belonging to the Skete of St Anne, after he was dethroned in 1757 (Gritsopoulos 1965, cols. 1193-7. Alexandros 1904, p. 254).