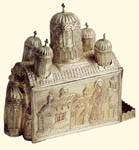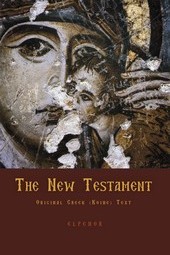 This casket is made in the shape of a five-domed church, with a small extension at one end: this is probably intended to suggest a portico, represented by a low colonnade. On the side of the box corresponding to the north wall of the church, the figure of St Stephen, richly dressed in the vestments of a deacon, as depicted in eighteenth-century engravings, stands before a domed church holding a censer in one hand and raising a closed book in the other (Papastratou 1986, II, no. 520, p. 488). On the other side St Romanos, also robed as a deacon, stands in front of a typically Athonite church holding a censer in his right hand; in his left hand, covered by a linen cloth, is a casket in the shape of a church. On the narrow end representing the western wall of the church are four square panels decorated with open flowers. Just below the arches representing the colonnade and around the drum of the central dome is engraved in large letters the name: 'ΝΙΚΗΦΟΡΟΥ' (Of Nikephoros), while on the bottom of the casket is the inscription: 'ΑΩΙ ΙΑΝΟΥΑΡΙΟΥ ΙΕ / ΓΕΓΟΝΕ Κ(ΑΙ) ΤΟ ΠΑΡΟΝ ΑΝ/ΑΛΩΜΑΣ(Ι) ΤΩΝ ΦΙΛΟΧΡΙΣΤΩΝ / ΔΙ ΕΠΙΣΤΑΣΙΑΣ ΤΩΝ ΕΠΙΣΤΑΤΩ(Ν) ΤΟΥ ΤΕ Κ(ΥΡ) ΙΑΚΩ/ΒΟΥ ΠΡΟΗΓΟYΜΕΝΟΥ ΒΑΤΟΠΑΙΔ(ΙΝ)ΟΥ ΚΑΙ ΤΩΝ ΣΥΝΑΥΤΩ' (1810 / January 15 / at the expense of those who love Christ and under the guidance of the overseers and of Master Iakovos, Prehegumen of Vatopedi, and his fellows).

The casket, now empty, is borne by the deacon when he burns incense through the church on official occasions; the large white linen cloth worn over his left shoulder betokens the mandylion (scarf) which was part of the liturgical dress of deacons in the earliest Christian centuries, as depicted in the representation of St Romanos. The pyxis-like incense burners which deacons formerly carried under a white linen cloth seem to have been replaced in about the sixteenth century by caskets of this type (Pallas 1954, pp. 161-6. Chatzidakis 1986, figs. 67-68. Millet 1939, pls. CIV and CV).

The decoration of this casket includes a number of typical nineteenth-century motifs, such as the open flowers on the front. While the goldsmith has obviously tried to render the construction details as realistically as possible, his efforts are not always entirely felicitous. Most successful are his depictions of churches on the sides of the casket, which create the impression that they are representations of actual buildings.

An annotation in a codex in the Protaton, dated July 1810, records the donation of this box which weighs 1128 grams, and the names of all those mentioned in the inscription as associated with its production. The Nikephoros named on the dome may be the hieromonk Nikephoros who commissioned a number of ecclesiastical articles for the Protaton in the latter part of the eighteenth century (Kourilas 1949, pp. 165 and 159-62).