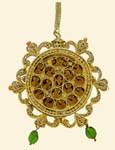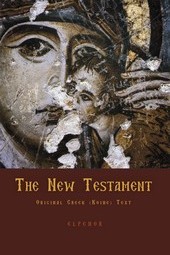 This round enkolpion has a carved wooden core encased in an openwork frame. On the one side, the round openings of the mount reveal the Virgin and Child, with worshipping angels, seraphs and prophets among the tendrils of a vine: this is the iconographic theme of the 'Prophets from above', illustrating the relevant hymn. The other side has Christ in the type of the True Vine, accompanied by his disciples. Filigree enamel work covers the silver-gilt frame. The floral motifs of twisted wire framing the figures may echo the tendrils of the vine shoot carved in the wood. A foliate motif in filigree is repeated around the edge of the medallion, each surmounted by a coral bead; two green glass beads hang from the bottom.

The theme of the 'Prophets from above' refers to the prefigurations of the Virgin in the prophecies foretelling the Incarnation, and was first represented in monumental painting. It became extremely popular, and was one of the themes most frequently chosen for the decoration of panagiaria and episcopal enkolpia (Mouriki 1970, pp. 241-8). In this enkolpion it seems to have been rendered in a version combining elements from the Tree of Jesse (Radojkovic 1977, figs. 52a-b). Indeed, the figure of the Virgin in the type of the Tree of Jesse or the Rod out of the Tree of Jesse was frequently used in combination with Christ as the True Vine on wood-carved enkolpia in the seventeenth and eighteenth century (Radojkovic 1977, figs. 54-5). Variations on the subject of the 'Prophets from above' are found in the iconography of liturgical vestments, frequently accompanied by lines from the hymn, which is chanted while the prelate dons his liturgical vestments and regalia (Chatzidaki-Vei 1953, nos. 35-6, pp. 23-4, pl. ΙΓ΄).

In both style and workmanship, the frame of this enkolpion resembles the filigree enamel work characteristic of the second half of the eighteenth century (Ikonomaki-Papadopoulos 1990, p. 277, figs. 41, 42).