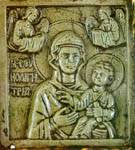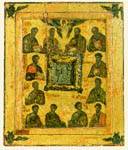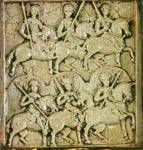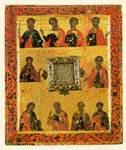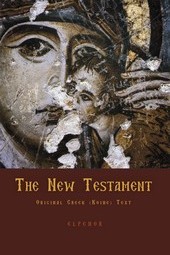 This double-sided icon, with the Virgin in the type of the Hodegetria on one side and six mounted saints on the other, was given a wooden frame and thus transformed into an interesting example of a processional icon combining not only two materials - steatite and wood - but also two decorative techniques: painting and relief carving. An eleventh-century Sinai icon displays a similar combination of techniques (Kalavrezou-Maxeiner 1985, pp. 106-7). Tradition has it that the Vatopedi icon was offered to the monastery by relatives of John VI Cantacuzenos (1347-54) from Serres (Theophilos 1972, p. 102). When the icon was framed some time in the sixteenth century, judging from the style of the painting of the frame (Tsigaridas 1996 (1), pp. 405-6), an attempt was made to establish an overall thematic unity on each side: the same is true of a contemporary processional icon now in the Vlatadon Monastery (Tourta 1977, p. 152).

On the principal face of the icon, there is a bust of the Virgin Hodegetria, as confirmed by the relief inscription to her right: she is represented frontal, with the Child on her left arm, while busts of two angels in adoration occupy the upper corners of the field. The wooden part of the icon has been decorated with the half-length images of the twelve apostles, while in the centre, near the top edge, is a bust of Christ in a section of aureola borne by angelic hosts. Six-winged cherubim embellish the corners of the carved frame. Taken together, the iconographic features of both the icon and its frame are thought to represent a free rendering of the theme of the Ascension. The subject of the Hodegetria is quite common on steatite icons (Kalavrezou-Maxeiner 1985, pp. 169, 206-7), especially in the twelfth and the fourteenth centuries. One of the iconographically closest parallels is found on the fourteenth-century steatite panagiarion from the Athonite Monastery of Panteleimon.

The iconography on the reverse of the icon is a relatively unusual one: six warrior saints, on horseback. Arranged in two rows of three, the six saints - George, Demetrios and Theodore Teron (above) and Procopios, Merkourios (?) and Nestor (below) - are mounted on heavy steeds and armed with either lance or sword. The decoration of this side of the frame, with busts of the 'Ten martyrs of Crete', creates an iconographic unity of subject on this side as well.