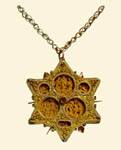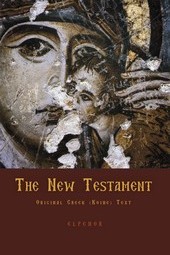 On one side of this star-shaped enkolpion the round lights in the encasing frame reveal, carved on the wooden core beneath, representations of Jesse, bottom, the Presentation of the Virgin, left, and the Presentation in the Temple, right, and, flanked by seated Evangelists, the Annunciation. On the other side, the corresponding positions are occupied by Jonah in the mouth of the whale, the Anastasis, the Baptism and the Transfiguration, again flanked by seated Evangelists.

The frame is a six-pointed star of silver-gilt, covered with beaded filigree ornaments and enriched with gemstones and pearls, many of which, unfortunately, have been lost: only one of the stones ornamenting the centre of each side are still in place.

This enkolpion displays the tendency in the iconography of the Eastern Church to associate the Tree of Jesse not only with the role of the Virgin in the Incarnation, but also with the liturgical year (Taylor 1980-1, pp. 169-70). The scenes on one side of the enkolpion, those above the figure of Jesse, belong to the Mariological cycle. We do not know whether the remaining positions contained portraits of prophets, for the frame does not permit a clear view. On the other side, the scenes belong to the Christological cycle, which here closes with the Anastasis and is associated with the prophetic character of the Tree of Jesse through Jonah, who prefigures Christ's Resurrection.

Enkolpia resembling this one in iconography and/or form are preserved in museums and collections in both Greece and Serbia (Ikonomaki-Papadopoulou 1978, p. 114, fig. 5, Radojkovic 1977, figs. 56, 71a-b). This may possibly be the 'star-shaped enkolpion of silver filigree with pearls and a silver chain' described in a codex in the Church of the Protaton as having been dedicated to the church in 1812 (Kourilas 1949, p. 165).