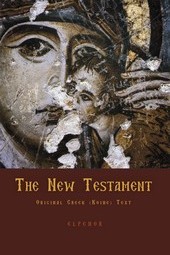 Inlay work decorates the ivory head of this staff: foliage in silver gilt and flora mounts set with red and green stones. Bound around the neck is a gilded strip engraved with the following inscription: 'ΚΑΙΣΑΡΕΩΝ ΠΕΦΥΚΑ ΠΟΙΜΕΝΟΣ ΣΚΙΠ(ΤΡΟΝ;) ΒΛΑΣΤΟΥ ΤΕ ΠΑΤΜΟΥ ΚΥΡΙΟΥ ΝΕΩΦΥΤΟΥ ΑΨΛ' (Staff of Neophytos of Patmos, Bishop of Caesarea, 1730). The shaft is made in five sections, inlaid with strips of mother-of-pearl and tortoise-shell pegged in place by large round-headed silver nails, and joined by four spheric collets ornamented with filigree and enamel, unfortunately considerably damaged. The end is tipped with metal.

While the ornamental use of broad-headed nails is a common decorative feature in eighteenth-century staffs (Ikonomaki-Papadopoulos 1988, p. 233, fig. 28), gemmed inlay work like that decorating the head of this staff would seem to be more typical of the second half of the seventeenth century. In this particular example, the inlay ornamentation that covers much of the surface of the head lacks the delicacy of earlier work. Without a sufficient number of dated pieces with similar features, however, it is impossible to tell whether the head of the St Anne's staff is contemporary with the shaft or whether it originally belonged to an earlier work.

The staff belonged to the Patmian Patriarch Neophytos VI Papagiannopoulos, a monk in the Monastery of St John the Theologian on the island of Patmos, when he was still Metropolitan of Caesarea, in Cappadocia. He died in exile in the Patmos Monastery (1747), to which he had, shortly before his death, bequeathed many treasures (Florentis 1980, pp. 60-1 and n. 1, p. 61). How this staff came to be in the Skete of St Anne remains unknown.