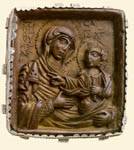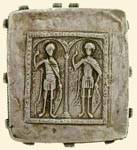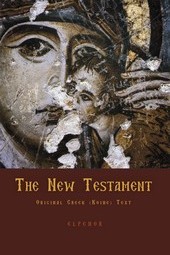 This small, almost perfectly square, icon was probably treated with oil in order to produce this light brown colour in the stone. The bust of the Virgin holding the Child in her arms is carved in high relief, with the hands and head especially accented. The incised inscription near the left and upper sides of the carved frame, which reads 'The Merciful Mother of God / Jesus Christ' occupies the background around the heads of the figures. The slanting, carved frame is surrounded by a denticulated silver sheet which extends from the back of the icon and is ornamented with the portraits of Sts George and Demetrios in high relief. The two saints, pictured full-length, in military dress and armed with lance in the right hand and shield steadied on the ground by the left hand, are depicted frontal, standing under arches supported by slender, grooved colonettes with stepped bases and small capitals. The representation is framed by a sculpted band bearing an illegible inscription, in relief, which is read cross-wise: '+ The gloriously victorious ... of the saints shield me, Nikolaos, from all harm'. The names of the two saints, in high relief, are written in column-fashion, reading from right to left.

This iconographic type of the Virgin, with many variations, was widely used between the twelfth and fifteenth centuries in steatite icons (Kalavrezou-Maxeiner 1985, nos. 31-4, 134, A8a). Stylistically the exceptionally high relief, especially in the heads of the figures, and the creation of different depths in the drapery and in the haloes, are features characteristic of early fourteenth-century work.

The Benaki Museum's steatite icon of the Presentation in the Temple is very similar in style, and has also been treated with oil (Kalavrezou-Maxeiner 1985, no. 154, pp. 221-2).

The denticulated edging on the silver sheet, while encountered in objects dating from the ninth and tenth centuries, is more usual in twelfth- and thirteenth-century work. The depiction of the two warrior saints under arched openings, common in eleventh- and twelfth-century steatites, is also found in paintings of a later period, especially the fourteenth century. The cast high relief of the two figures is somewhat stylized and summary. The iconography and style of a silver reliquary found in a fourteenth-century tomb is so similar to the silverwork on this piece that the suggested fourteenth-century dating may be extended to the silver mount as well (Polenakovic-Stejic 1964, pp. 323-4, figs. 7-8). The mount appears to have been the gift of a certain Nikolaos, who commemorates Sts Demetrios and George in the dedicatory inscription.