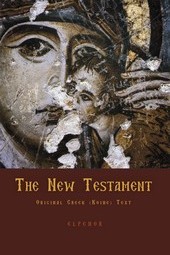 The two tablets forming the front and back covers of this set are single sheets of hammered silver, raised and gilded, with five oval medallions placed symmetrically on each. They are attached to the spine plate by means of tubular components through which a slender metal rod is passed. The three free edges of each plate are folded over the hard outer cover of the book binding. The relief decoration is the same on both tablets: rococo motifs cover the surface and frame the medallions, four matching ones in the corners and a single larger one in the centre. The whole is framed by a narrow, raised cord, leaving undecorated a band one centimetre wide, to set off the whole composition.

The scenes on the silver medallions are highlighted with niello. The central medallion on the front cover represents the Crucifixion, with the Virgin and St John standing on either side of the Cross. Above the cross-piece are written in minuscule letters the words "η σταύ/ρωσις του" (`the crucifixion of'), without the name of Christ. The four medallions in the corners display busts of prophets, each holding a scroll and identified by his initial: Δ (David), Σ (Solomon) and H (Isaiah); the fourth, depicted as a young, beardless man, is also identified as Δ. The central medallion on the back cover represents the Resurrection, and the corner ones the four Evangelists with their symbols.

A leafy tendril, also in relief, winds up the spine, and a similar motif ornaments the two closure tabs.

The inscriptions engraved in minuscule letters on the strips inside the covers tell us that the set was made for Archimandrite Daniel of Thasos in 1881, that it cost seven Turkish pounds, and that the total weight of the silver was 99 drams. Archimandrite Daniel of Thasos was the superior of the Pantokrator Monastery from 1860, and one of the most distinguished figures on Mount Athos in the latter half of the nineteenth century. The decoration was inspired by the work of Thomas Pentos of Krusovo, which may be seen in the similarly small scale set of Gospel covers made for the Simonopetra Monastery in 1849 (Ikonomaki-Papadopoulos 1991, p. 186, fig. 102), although this is aesthetically less satisfying.