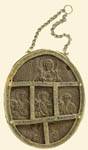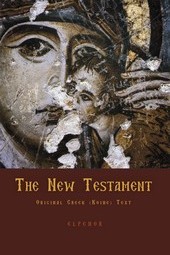 Both faces of this bone enkolpion are divided into six panels, containing figures of the Virgin with apostles and saints, in supplication. Dominating the front is the Virgin in the type of the Vlachernitissa; and beneath this are three hierarchs (St Gregory, St John Chrysostom, and St Basil), followed by St Nicholas and St Sabbas. At the top of the other side, St Peter and St Paul face each other in the two panels at the top, one holding a scroll and the other a gospel book. The remaining panels contain portraits of the warrior saints dressed in martyr's robes: St Theodore Teron, St Demetrios, St Theodore Stratelates, and St George. These half-length figures, which all have large haloes, are executed in fairly high relief; they are identified by incised Greek inscriptions, and are differentiated by their dress, their hair and their beards. The composition of this enkolpion, with the Virgin and the apostles Peter and Paul in the upper zone, in a form of Deesis, and the hierarchs and warrior saints following in hierarchical order, is characteristic of small enkolpia intended for personal use (Kalavrezou-Maxeiner 1985, pp. 65-7).

The silver gilt mount forms a sort of open-work case, bound by twin rings and with a filigree ribbon encircling each face of the medallion and framing each separate panel. The rings, which are set into the thickness of the enkolpion, bear Slavonic inscriptions: one of them commemorates the Monastery of the Koimesis and gives the dates ZPNB (7152 counting from the Creation = 1644) and AΨE (1705); the other reads (in translation, K. Prodromou's reading) `This priceless and irreplaceable enkolpion, this treasure from the horn of the wild unicorn, was purchased by my humble self, Archbishop Matthew, completed at my own expense, and presented to the Monastery of Bistritsa'. The Romanian Monastery of Bistritsa, in the Wallachian province of Vilcea, is known from a number of other important silver articles, such as the Gospel covers dedicated by known benefactors (Nicolescu 1968, nos. 330, 337, 347). The Slavonic inscriptions on the enkolpion, and the inclusion among the hierarchs of St Sabbas, the founder of the Serbian Church, are not surprising. It was not until the final quarter of the seventeenth century that the Romanian Church began its gradual abandonment of Old Church Slavonic, a process which was completed by the middle of the following century (Elian 1992, p. 19).

Of particular interest is the reference to the unicorn. The horn of this mythical beast was widely believed to be a sovereign remedy, and a specific against poison, until the end of the eighteenth century (Ballian 1996, p. 504). These magical properties, which were known to the ancient world, entered popular folklore in the Middle Ages with the translation and dissemination of the famous Physiologus, a second-century Greek bestiary (Strzygowski 1899).