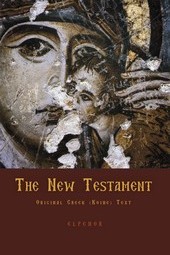 Embroidered on each epimanikion (maniple) are four scenes from the Dodekaorton. On the first epimanikion the Annunciation and the Nativity, proclaiming the humanity of God made man, the Baptism and the Transfiguration, proclaiming his divinity; on the second the Crucifixion and the Anastasis, signifying the redemption of mankind through the sacrifice of God, the Ascension and the Pentecost, symbols of the Church.

Each epimanikion is divided vertically into three parts, the central one being halved horizontally in order to accommodate the four scenes, which appear in the following order:

a) The Annunciation, the Transfiguration, the Baptism, the Nativity

b) The Anastasis, the Pentecost, the Ascension, the Crucifixion.

A double entwined guilloche border frames each epimanikion, and scattered rosettes and digammas ornament the ground.

The iconography stresses the theological elements of each scene, rather than the narrative: in the Nativity the prophets and the Temptation of Joseph are presented rather than the Adoration of the Shepherds and of the Magi; in the Baptism, the 'axe ... laid unto the root of the trees' (Matthew 3: 10), rather than the personification of the River Jordan; in the Ascension, the unbowed (as the Church doctrine) figure of the Virgin, rather than the company of the apostles. Moreover, the older, more austere types of the Crucifixion and the Ascension are preferred to the more crowded compositions of the Palaeologan period, although this may have been dictated by the limited space available. Palaeologan traits appear in some of the details: in the dress of John the Baptist, who is wearing a himation over his 'raiment of camel's hair', a feature introduced in the early Palaeologan period and which predominates in Athonite art, or the cap on the head of the 'World', rather than a crown.

The entire surface of the red silk ground has been embroidered over in gold. The design is worked in silver thread and coloured silks: wheaten, chestnut, crimson, green, pistachio, turquoise, grey. The partitions between scenes are worked in turquoise-tinted gold thread.

In design, workmanship and lettering these epimanikia closely resemble the epitrachelion with the Akathistos Hymn (no. 11.7), and were probably made in the same workshop.