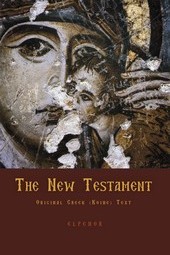 A foliate arch in the centre of each of these epimanikia frames one of the figures of the Annunciation. Indeterminate flowers growing out of urns standing one on each side of these arches fill the remaining space, while a ribbon border with a rinceau frames each piece. The work is executed on green velvet in gold and silver wire, coloured silks and pearl beads, the whole slightly raised to accent the dynamic sinuosity which gives the whole its lightness and its grace.

This type of epimanikion decoration, where the central figure stands out against a background of urns and flowers, betrays a Western influence and was quite common in the art of Pontus and Asia Minor in the seventeenth century. At the feet of each of the figures is the signature 'ΜΑΡΙΟΡΑ/ΔΟΜΝΑ - ΔΟΥΛΗ ΤΟΥ ΘΕΟΥ' (Domna Mariora, Servant of God). Mariora was a famous needlewoman who embroidered vestments for several Patriarchs, principally Paοsios II. These epimanikia, made for Cyril V, are her only undated works and the only ones where she signed herself 'Domna'.

After an initial term as Patriarch (1748-51) Cyril V was dethroned - largely owing to the machinations of the French ambassador - and confined to Chalki, 'with a generous pension from the Church and in great honour and esteem'. Re-elected Patriarch in 1752, at the insistence of the people but to the chagrin of the Western nations, he remained at the head of the Church for four more years, after which he was exiled to Cyprus. Eventually he was granted permission to retire to Mount Athos, where he entered the Skete of St Anne, built his own cells and lived in retreat. Cyril's name is associated with the Anabaptist movement, and in his first term as Patriarch he sought to protect Orthodoxy against the propaganda of the Western Church. He did much for the finances of the Patriarchate, founded hospitals in Constantinople and Adrianople, and re-organised the education system: the famous Athonite School was his creation. Cyril has been described as 'most reverend and most learned, a worthy incumbent of the ecumenical throne', who even in retreat on Mount Athos served the Church whenever the opportunity arose.