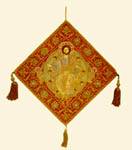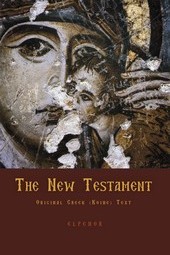 Within a mandorla inscribed within a square and set diagonally on the vestment is the figure of Christ as Angel of the Great Will, with wings on either side of his halo. Pairs of seraphs flank his shoulders, waist and legs. He is seated above the clouds, as if on a throne, and all around is the starry sky, worked with gold knots. His right hand is raised in blessing, and his left holds an open book, with the words 'And no man hath ascended up to heaven, but he that came down from heaven'. To right and left of the mandorla are the prophet-kings David and Solomon, each holding an open scroll: David's reads 'Lord, a throne is prepared in heaven' and Solomon's 'The souls of the righteous are in the hand of the Lord'. The whole is framed by a broad border with a pattern of a blossoming vine.

At Christ's feet are the words: 'ΠΟΝΟC ΕΥCΕΒΙΑC ΑΨΚΖ(' (toil of Eusebia 1727), and at the prophets' feet the words: 'ΠΡΟΥCΗC ΓΡΗΓΟΡΙΟΥ' (Gregory of Bursa). This same composition, with a circle, here a mandorla, inscribed in a square and an ornate floral decoration, is found in almost all the epigonatia (genuals) embroidered by Eusebia (Theochari 1966-7). Here too a lavish floral ornamentation predominates. The marvellously developed borders with the dense conventional foliage bespeake the artist's penchant for the decorative and western models. The gold and silver wire, gold thread, tir-tir and semiprecious stones scintillate against the red silk cloth, creating a sense of perspective.

Given to the Skete by Patriarch Cyril V, this vestment formerly belonged, according to the inscription, to Gregory of Bursa, whose name is found in the registers for 1748.