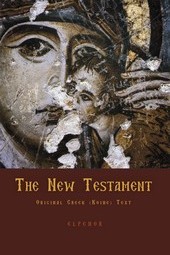 The recumbent figure of the dead Christ with his cruciate halo and his hands crossed over the long loin cloth lies directly on the textile. Angel-deacons with liturgic fans glorify him; depicted in bust, in arcs at the four corners of the epitaphios, all are aligned along its horizontal axis. The ground is diapered with crosses linking medallions inscribed with smaller crosses. The border of the epitaphios and the arcs enclosing the angels are decorated with a variant of this pattern: here the crosses link half-acanthus leaves, their hearts highlighted in green silk.

At Christ's head, and between the two angels, is the inscription: 'Jesus Christ, the King of Glory', while his feet touch a sort of mosaic.

This epitaphios belongs to the liturgical type, originating from the great aer. Christ is represented as a eucharistic allegory of the Lamb.

The embroidery has been worked in fine gold and silver wire on red silk, stitched to a silk backing.

The Pantokrator aer-epitaphios is modelled on the aer-epitaphios of Emperor John VI Cantacuzenos (1341-54), preserved in the Monastery of Vatopedi. However, the place occupied by the dedicatory inscription, at the feet of the dead Christ in the Cantacuzenos vestment, is here filled in with a sort of mosaic of red and green stones, completely irrelevant to the rest of the ground design, belying the artist's perplexity in filling the space and confirming that it is a copy of the Vatopedi epitaphios.