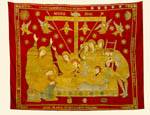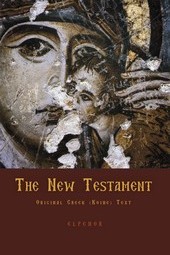 The scene of the Lamentation, with all the usual figures, occupies the entire surface of this epitaphios. Christ is depicted lying on the rock, where he has been anointed with the mixture of myrrh and aloes. The Virgin, seated on a stool to his left, is embracing his head, while Joseph, at his feet, is holding the edge of the linen cerement and Nikodemus is leaning against the ladder. From behind the rock, John bows over the dead Christ's hand, kissing it. In the middle ground two women are lamenting, while three more gaze, grief-stricken at the body. In the background is a tall cross with the spear and the sponge, while the remaining instruments of the Passion, the basket of tools, the ewer of vinegar and the crown of thorns, appear, in miniature, in the foreground. Above the arms of the cross is the legend 'The Lamentation'; beneath it are angels, some weeping and some worshipping, and two seraphs. The cosmic symbols of the sun and the moon occupy the two upper corners, and stars are scattered across the ground.

The scene is framed by a narrow border, on three sides of which is the troparion sung during the Great Entrance of the priests into the sanctuary on Easter Saturday: 'The honourable councillor, Joseph [of Arimathaea], took Thy body down and wrapped it in the clean linen and spices, and laid it in a new tomb', and on the fourth the dedicatory inscription: 'ΔΕΗCΙC ΤΟΥ ΔΟΥΛΟΥ ΤΟΥ ΘΕΟΥ ΠΑΓΩΝΗ ΚΑΙ ΤΩΝ ΓΟΝΕΩΝ' (Supplication of Pagonis, servant of God, and his parents).

The epitaphios is worked on red silk in silver thread and grey, brown and turquoise silks, without padding, and reproduces the iconography customary in the seventeenth century.

Unlike other works from this period, the scene is perfectly balanced, the design has considerable plasticity, and the ranking of the figures is observed. The attempted realism is most evident in the dramatic gestures of the figures. This epitaphios is clearly the work of a highly-skilled Greek workshop.