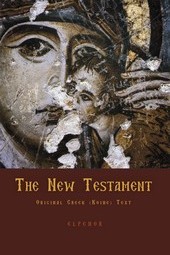 Stitched on to a newer fabric (damask?) are four appliquι crosses, two pairs of bands, and two smaller sunbursts. At the centre of the cross-shaped appliquιs are quatrefoil 'lights', with the Nativity, the Anastasis, the Ascension and the Pentecost. On the arms of the crosses are frontal hierarchs with their names embroidered in two columns on either side of their heads. A floral motif fills the remaining space. The bands are decorated with interlacing circles, smaller ones alternating with larger. In both pairs of bands the larger circles frame seraphs, while the smaller ones in the upper band enclose cruciform guilloches and in the lower band the inscription: 'ΙΕΡΕΜΙΟΥ ΠΑΤΡΙΑΡΧΟΥ - ΤΗΣ ΠΑΜΜΑΚΑΡΙΣΤΟΥ' (Patriarch Ieremias - of the Pammakaristos). The spaces above and below the circles are ornamented with pairs of confronted birds, whose tails form heart-shaped motifs. The vestment is finished with nine tassels at each end.

The decoration of the bands is comparable to that of the Athonite epitrachelia studied by Millet, especially those in the Monastery of Stavronikita. Gold thread predominates in this work, contrasting magnificently with the red silk. Silver has been used for the sides and the outlines of the garments, to describe the haloes and for part of the floral motifs. The hands, faces and beards are worked in coloured silks.

Ieremias II (1536-95), who acceded to the Patriarchal throne in 1572, was a distinguished theological scholar. He discussed at length, in three letters, the articles of the Confession of Augsberg with certain Lutheran theologians who, seeking unification with the Eastern Church, had sent him this document for his commentary. These letters were published in Wittemberg as early as 1584. He convened a Synod which rejected Pope Gregory XIII's changes to the calendar as 'erroneous and a stumbling-block to Christian mores'. He travelled to Moscow in 1589 to consecrate the first Russian Patriarch, Job, formerly Metropolitan of Moscow, an act subsequently recognised by the Synod in Constantinople. A number of his works, letters and theological treatises have survived.

Given the reference to the Pammakaristos, this vestment must date from before 1586, when the Patriarchate removed to the Vlach-Serai, and indeed from before 1584, when the Patriarch was exiled to Rhodes.