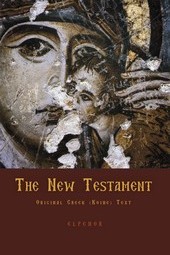 Represented is the Tree of Jesse (Isaiah 11: 1), combinated with the theme of the 'Prophets from above'. At the bottom, on a green field, is the figure of Jesse with long beard and wearing a cidaris. He rests on his right elbow and in his left hand holds an open scroll inscribed with a brief version of Isaiah's prophecy foretelling the Rod out of the Tree of Jesse.

Rising from his chest is the trunk of a tree whose branches form tendrils framing representations of the prophets, six either side seated and holding scrolls inscribed with the barely legible prophecies relating to the coming of the Saviour and displaying the symbols of the Theotokos. David (ark), Solomon (pallet), Moses (burning bush), Aaron (flowering rod), Zechariah (seven-wick lamp), Gideon (fleece), Ezekiel (barred gate), Jacob (ladder), Isaiah (tongs), Jeremiah (scroll), Habakkuk (Mount Paran), Daniel (a great mountain).

Between the fourth and fifth pairs (from the bottom), are the Virgin and Child, while at the top, above and between David and Solomon, is the Eternal Father.

Worked in gold thread on red satin, this pyle is worn in places, although the embroidery itself is in perfect condition, excepting the lettering on the scrolls, where the black silk stitches have worked loose. The hands and faces are worked in red and white silk, the hair in brown and the beards in grey or wheat-colour. The principal stitches used are vereriki and kamares.

The careful needlework and the almost painterly rendering of the expressive figures bear witness to the excellence of both the pattern and the workshop.