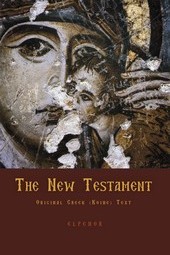 Five tassels hang from the ends of this single strip of red satin, which is entirely concealed beneath the gold embroidery. At the centre, within a medallion, is a bust of Christ as Great High Priest, his hands raised in blessing. A narrow band of light blue embroidery separates him from the next two figures, and matching bands mark off the other six panels, occupied by figures of apostles, in three-quarter view, their vari-coloured garments seemingly billowing out behind them, conveying 'the energy and movement of men inspired by their mission and their purpose'.

The apostles are arranged in the order of the Proskomide (Offertory), and are, from the top: Peter and Paul, Matthew and Mark, Luke and John the Theologian, Simon and Andrew, James and Bartholomew, Thomas and Philip.

The figures are framed by trefoil arches resting on coloured columns and bases. All the empty space beneath and beyond the arches is filled with red flowers, carnations and tulips. A narrow band of the same flowers forms a border around the edge. G. Millet has studied the different phases in the stylization of this ornamental motif, and attributes it to a Moldavian workshop. This epitrachelion from Simonopetra is comparable to one dating from about 1600 in the Meteorite Monastery of Barlaam (Theochari 1957), which is of Wallachian provenance and probably roughly contemporary.

Both the design and the execution of this vestment are exceptionally fine, as are the materials used. The embroidery is worked in fine gold wire couched with silk, the point where it is caught creating a base pattern. For the garments the artist has used gold thread mixed with coloured silks, predominantly red, but with blue, green and pink as well. The countenances are modelled in a very fine riza stitch worked in wheat-coloured silk, and the folds of the drapery in a colour contrasting to that used for the mantles. The same palette of colours is used to fill in the columns, their bases and capitals, and the background flowers, thus breaking the monotony of the gold. The design retains something of the delicacy and grace of Byzantine work.