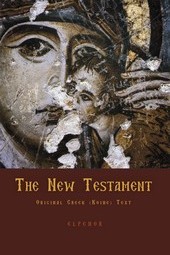 On the right epimanikion (maniple) is the figure of Christ as Great High Priest, seated on a throne, his feet on a footstool and both hands raised in blessing. On either side stands an angel in adoration. The three figures are separated by intricate oval floral frames.

At the top of the epimanikion is the vesting prayer intoned by the priest as he dons the right epimanikion: 'Thy right hand, O Lord, is become glorious in power: thy right hand, O Lord, hath dashed the enemy pieces'. At the feet of the angels is the inscription: 'ΠΑΙCΙΟΥ ΠΡΟΗΓΟΥΜΕΝΟΥ ΙΒΕΡΙ(Τ)ΟΥ ΚΤΗΜΑ' (Property of Paοsios the Ivirite).

On the left epimanikion the Virgin, also seated on a throne, her feet on a footstool, is flanked by two angels and framed by the same floral ornament. Above is the inscription: 'Rejoice favoured one, the Lord is with thee, and through thee with us', and at the angels' feet: 'ΕΝ CINΩΠΙ ΑΧΟθ΄' (In Sinope, 1679). On both epimanikia seraphs fill the spandrels created by the floral motifs.

The epimanikia are embroidered in silver on red velvet; the embroidery is in relief, and is worked in the riza and kamares stitch, the hands and faces in wheaten silk and the hair in brown, red and black. Touches of blue are used to highlight the Virgin's hair and details of the throne and garments, while pearl beads outline the haloes. The vestments appear to be the work of a folk craftsman.

Numerous seventeenth/eighteenth-century vestments from Sinope display the same characteristic oval floral frame: the Iviron Monastery has many such. It is therefore reasonable to conclude that during this period Sinope must have had a flourishing workshop producing church embroideries. The Monastery has two more vestments belonging to Paοsios: another pair of epimanikia (1673) and an epitrachelion.