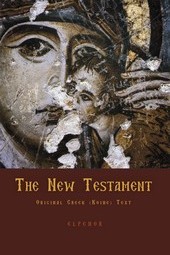 Painted in ink in the centre of the linen cloth, which is in fairly good condition, is the cross of Calvary on a stepped base, flanked by the instruments of the Passion (lance, reed and sponge) and the familiar abbreviations of letters from the monastic analabos: ΙΣ ΧΣ ΝΙΚΑ (Jesus Christ Conquers), Τ, Κ, Π, (Tόπος Kρανίου Παράδεισος [Γέγονε]), Α, (Αδάμ) (The Place of the Skull [has become] Paradise, Adam); the skull of Adam has been placed beneath the base of the cross. Enclosed in medallions set in the four corners are the symbolic words (misspelled) of the four Evangelists: 'άδοντα, βοώντα, κεκραγότα και λέγοντα' (singing, crying aloud, proclaiming, and saying). Completing the decoration are the cosmic symbols of the sun and moon at the top and the dedicatory inscription at the bottom: '+θισηαστήριον θηων κ(αι) ηερών αφιεροθέν παπ(α) νικταρίου//ερομονάχου ης τον αγιων ηληα θεσβιτου προφιτου:' (A divine and sacred altar dedicated by Nektarios, hieromonk, to the holy and venerable prophet Elijah).

The antimension has a lining of the same heavy linen cloth and, on its surface, traced over the figure of the front cross, another cross of some molten compound, probably from its consecration, inscribed within a rectangle of the same substance.

The simple and patently symbolic decoration clearly places it in the initial period of the development of the iconographic programme of the antimensia, for we know that this archaic and austere theme was used in the decoration of antimensia throughout the Byzantine era and into the late sixteenth century, the period to which the oldest surviving exemplars in Greece belong.

The iconographic type of the Byzantine antimension from before the Fall of Constantinople may be exemplified by the extant pattern-model for the decoration of antimensia in the manuscript Cod. Ω31, folio 138r in the Great Lavra (1456/7), which is very similar in iconography to the Simonopetra antimension.

There is also a twelfth-century antimension in a Russian collection which has an identical iconography, further supporting the view that this was the standard theme used during the Byzantine period (Subotic 1984, pp. 184-216).

While the representation of the cross here has both theological and symbolic significance, since in the words of Germanos of Constantinople, 'the cross is an altar', at the same time the cross in conjunction with the instruments of the Passion denote the Hetoimasia of the Judge who is to come.

The 'prophet Elijah' mentioned in the inscription is probably the kathisma which was purchased by the monastery's founder, Ioannis Ugljesa (d. 1371): '+από της περιοχής του Πρωτάτου... κάθισμα του αγίου Προφήτου Hλιού' (in the region of the Protaton ... a kathisma of the holy Prophet Elijah), today a dependency of the Monastery of Stavronikita.

This antimension, a classic example of the oldest known type of decoration of this liturgical vestment, which over the centuries of its development evolved through three basic periods, must date from the sixteenth century at the latest.