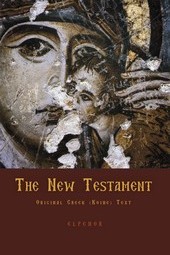 The familiar representation of the Man of Sorrows fills the centre of this antimension; this identifies it as belonging to the second period in the development of the iconographic programme of this liturgical item. The central scene is framed by four round medallions containing painted busts of the apocalyptic symbols of the four Evangelists, with two six-winged seraphs flanking the figure of Christ. The colouring is generally subdued. While the antimension is fairly good preserved, the right-hand side is somewhat worn.

The overall style of the decoration speaks of the influence of the Renaissance, especially in its three-dimensional rendering of the tomb and the cross, the modelling of the figure of Christ and mainly of the faces of the six-winged seraphs. Despite the common iconographic type, the Stavronikita antimension has - from the stylistic point of view - more of folk art about it than has the preceding example (no. 12.2) from the Skete of St Anne, whose spareness and austerity of line accent the transcendental and symbolic character of the scene.

Here the majuscule inscription of consecration has been moved to the edges of the antimension, as is typical of this period where, with stylised floral ornaments punctuating the text in the four corners, it frames the entire composition.

The text of the inscription reads: 'ΘΥΣΙΑΣΤΗ(ΡΙ(ΟΝ) ΘΕΙ~ΟΝ Κ(Α)( 'ΙΕΡΟ(Ν, ΤΟΥ~ ΤΕΛΕΙ~ΣΘΑ(Ι) ΔΙ' Α'ΥΤΟΥ~ ΤΑ(Σ ΘΕΙ((ΑΣ)//'ΙΕΡΟΥΡΓΙ(ΑΣ, ΚΑΘΙΕΡΩΘΕ(Ν Κ(ΑΙ() 'ΑΓΙΑΣΘΕ(Ν, ΠΑ//ΡΑ( ΤΟΥ~ ΘΕΟΦΙΛΕΣΤΑ(ΤΟΥ 'ΑΓΙ(ΟΥ ΚΑΛΛΙΟΥΠΟΛΕΩΣ ΚΥΡΙΟΥ 'ΙΕΡΕΜΙ(ΟΥ//'ΕΝ Ε(ΤΙ 'ΑΠΟ ( Χ(ΡΙΣΤΟ)Υ~ 1717 * ΙΟΥΝΙ(ΟΥ * ΣΤ* ΧΕΙ(Ρ Κ(ΩΝ)ΣΤ(Α)ΝΤ(Ι(ΝΟΥ)' (A divine and sacred altar for use in divine service, consecrated and sanctified by the favoured of the Lord, Ieremias, Bishop of Kallioupolis, in the year of Our Lord 1717 on June 6. By the hand of Constantine).

From this inscription we know that the antimension was painted by the unknown (?) artist Constantine and consecrated on June 6, 1717, by Ieremias, who served as Bishop of Kallioupolis - today's Kallipoli, in Eastern Thrace - from 1680 to 1728.