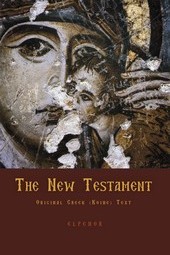 The decoration of this linen antimension is centred on the scene of the Lamentation, painted predominantly in reds, greens and blues.

The third period in the development of the iconographic programme of the antimension begins early in the eighteenth century with the appearance of this iconographic type, familiar from the frescoes and portable icons of earlier centuries. During this period, the symbolic character of the iconography of the antimension, in correlation with liturgical developments, becomes historic-narrative, with the figures of the Evangelists - now replacing their apocalyptic symbols - framing the representation of the Threnos.

While the style of this representation conforms to contemporary iconographic models, the flora ornamentation, the cypress trees flanking the cross and the choice of colours generally, combine to give the entire composition touch of popular art. The four corners are still decorated with the apocalyptic symbols, here depicted in their entirety on a green ground within a square frame, quite separate from the rest of the decoration. Between these compartments and around the central scene of the Lamentation a band painted with flora motifs lends the whole composition an air of simplicity. An arch above the Cross frames the inscription 'The Epitaphios Threnos', while beneath the scene is the inscription of consecration: ΘYΣIAΣTH'PION ΘEI~ON KAI' IEPOYPΓHΘE'N, TOY~ TEΛEI~ΣΘAI ΔI' AYTOY~ // TA'Σ ΘEI'AΣ IEPOYPΓIAΣ. KAΘIEPΩΘE'N ΠAPA TOY~ ΘEOΦEΛEΣTA'TOY// EΠIΣKO'ΠOY IEPHΣOY~ KAI' AΓIOY Ο΄POΣ KYPOY~ IAKO'BOY:-// εν έτει, 1775. (A divine and sacred altar for use in divine service. Consecrated by the favoured of the Lord, Iakovos, Bishop of Ierissos and the Holy Mount, in the year 1775).

The antimension was thus consecrated by Bishop Iakovos of Ierissos and Mount Athos in the year 1775. Iakovos is known to have served as Bishop of Ierissos from 1761 to 1780, and his signature appears, together with that of the Ecumenical Patriarch Samuel, on a letter of confirmation issued to the Monastery of Chelandari in 1768.

The antimension is lined with a fine blue material, and was at some later date mounted on another backing, made of a fabric striped in brown and green, which extends beyond it on both sides and is somewhat worn in the middle.