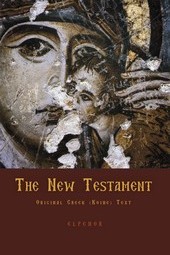 This antimension, which is in very good condition, is made of heavy off-white linen, lined with the same material in blue and decorated in black ink.

Although generally austere, the decoration of this antimension combines elements from every period of the iconographic evolution of this liturgical vestment. The centre is dominated by the cross with the instruments of the Passion (lance, reed, sponge and crown of thorns) and the talismanic abbreviations ΙΣ ΧΣ ΝΙ ΚΑ (Jesus Christ Conquers), an archaic element. At the base of the cross there are iconographic motifs from the second period: the 'empty tomb' and the 'stone rolled away from the tomb'.

This naive composition is enclosed within a rectangular border, in the corners of which are triangles framing the busts of the four Evangelists, a feature usually encountered in the third period. The Evangelists are holding open scrolls - an unusual detail - on which are written the first phrase of each one's Gospel. The spaces between the triangles form narrow bands decorated with the calligraphic inscription of consecration:

(above) '+ Άγιον κ(αί) ιερόν Θυσιαστήριον, του εν Aυτώ τελείσθαι τάς θείας κ(αί) ιεράς τελετάς' (Divine and sacred altar, for use in divine and sacred rites)

(left-right) '+ Καθιερώθι παρά του θεοφιλεστάτου αγίου Κορών(ης) Κυρίου, κου, ΜΑΚΑΡΙΟΥ' (Dedicated by the favoured of the Lord, Makarios, Bishop of Koroni)

(below) 'αψξγ' εν Iαννουαρίω ινδικτ(ιώνος) ια'' (1763 in the month of January indiction 11).

An inscription in similar lettering on the lower border reads 'Xρυσοκελλαρί(ου)' (of Chryssokellariou): this was probably a monastery, perhaps within the Episcopate of Koroni, to which this antimension was donated, or where it was consecrated, by Bishop Makarios in 1763(?).

Makarios Karakallos of Demetsana was apparently Bishop of Koroni, in Messenia, from about 1744 to 1770.

The original and simplistic synthesis of iconographic elements from various periods, tending towards imitation of the archaic, makes this an interesting antimension for its period which was generally one of rich and elaborate decoration due to the possibilities offered by the new technique of copperplate printing and to the liturgical and aesthetic demands.