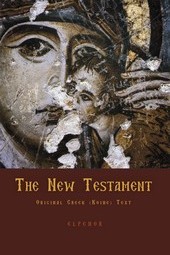 Scribe. Gerasimos, a monk at the Pantokrator Monastery.

Gerasimos also wrote Cod. 162 (Menaion for April, A.D. 1364/1365). Certain palaeographical and codicological similarities exist between these two manuscripts and others in the monastery's possession, such as Cdd. 163, 170 (undated), 175 (undated), 176 (fols. 1-146 from A.D. 1361/1362), and 178 (undated). This suggests that they might all have been produced by the same scriptorium.

We are not sure whether Gerasimos, who wrote Cdd. 108 and 162, was a monk at the Pantokrator Monastery. Many codicological details suggest this (e.g. similarities between his notes and those of Ignatios, who was indisputably at Pantokrator: see no. 18.18), but there is no concrete evidence.

Scribe's note. At the end of the manuscript:

'Father, take pity on the wretched Gerasimos/ [written in] the year 6877. (= 1368/1369).'

Note. The first few leaves have been cut out.