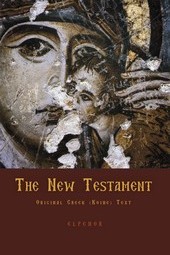 Scribe. The writer of this codex is the well-known scribe Chariton, who belonged to the scriptorium of the Hodegon Monastery in the centre of Constantinople, near Ayia Sophia. This scriptorium had close ties with the Palaeologi. In a way, it was the 'National Printing-House' of the Palace. Chariton's activity as a scribe spans the period 1319-1346, and precedes that of Ioasaph, the scriptorium's most important scribe. It is possible, as L. Politis supposes, that Chariton was Ioasaph's teacher. Another 11 manuscripts by Chariton are known to exist, for which L. Politis includes a catalogue in his study on the Hodegon Monastery (see bibliography). Chariton, like the other scribes at the monastery, wrote manuscripts for members of the royal family and other figures of high standing, as is the case in the present manuscript.

Scribe's notes.

On fol. 261v (or 264v, according to another foliation):

'The gift is from God and the labour by Chariton.'

On fol. 262v (or 265v, according to another foliation):

'+ This psalter by the divinely inspired King David
with its sublime melodies
was adorned with funds provided by
Queen Anna Palaeologina and the king's son.'

'+ This psalter of dazzling beauty
was adorned by Anna Palaeologina
in the year six thousand eight hundred
and fifty-four.'

In another hand:

'That is, in the year anno mundi 6854 (= A.D. 1346).'

The donor of the manuscript, Anna Palaeologina, was Anne of Savoy, the second wife of Andronicos III Palaeologos (1328-1341) and mother of John V (1341-1376), who is mentioned in the note in the words 'and the king's son'. The manuscript was written during the civil war of 1341-1347, which broke out when the great domestikos John Cantacuzenos claimed (and eventually secured) the throne.

Decoration. The manuscript is richly decorated, with gold writing (the whole of the first page, the inscriptions and other parts are inscribed in gold letters) and elegant initial letters etc.