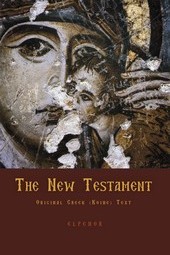 Scribe. The hieromonk Dionysios Studites alias 'the Rhetorician'.

Hosios Dionysios, who referred to himself as the hieromonk Dionysios Studites or 'the Rhetorician', lived in the late sixteenth and early seventeenth century; he lived with his disciple Hosios Metrophanis at Little St Anne's, which at that time was deserted but luxuriantly green. Their cave still survives, on the site of which a small church has recently been built. They are commemorated on 9 July.

The manuscript, despite its title, contains autograph ascetic texts by Dionysios; thus Dionysios is not only the scribe but also the author of the works which the codex contains. An abridged copy of Cod. 22 is Cod. 23 at the same skete. Lavra Cod. Λ 76, which is his Psalter and was used by him every day, is also his handiwork.

Scribe's note. On fol. 593v:

'This book was written by me, hieromonk Dionysios Studites, in the year 7090 (= 1582).'

Owner's notes. On fols. 638r and 638v.