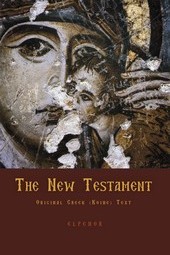 'Selections from the entire Psalter, for praise and prayer, chosen by the learned teacher Neophytos, a Jewish [convert to Christianity]. Dedicated to our blessed father Athanasios the Athonite. This being the first printed edition of this work, commissioned by the Most Reverend Archimandrite of the Great Lavra, Kosmas of Epidauros.

Mount Athos, 1759 By Sotiris Doukas of Thasos.'

fol.[4] + p.53.- Woodcut on the title page: two lions rampant holding a crown between their forepaws. Below an eagle with spread wings, and an escutcheon with a shining beacon. In the four corners of the woodcut the initials:Δ Κ Σ Τ (= Doukas Sotiris].

On the page facing the title page is a copperplate engraving of St Athanasios, who holds a cross in his right hand and in his left a scroll with the words: 'St Athanasios the Athonite.' Below the portrayal of the saint is a four-line epigram in capital letters, of which the last two lines read: 'Archimandrite Kosmas of Epidauros / by Sotiris Doukas of Thasos.'

This is the earliest edition printed in Greece and the only book printed on Mount Athos, at the Monastery of the Great Lavra.

After the establishment of the Athonite Academy on Mount Athos in 1749, and the appointment of Eugenios Voulgaris as headmaster in 1753, it became necessary to set up a printing press on the Mountain, to disseminate ideas. Greeks of the diaspora provided the funds needed to buy the equipment, and the printing press was installed in the Great Lavra. The then hegumen of the monastery, in his published address, wrote: 'After many trials and much painstaking effort, at my own expense and with God's help, I usher in the age of printing on Athos.' The printer, and also on-the-spot type-caster, ('of the new type, made here on Athos for me') was Sotiris Doukas of Thasos, who in the past had printed books in Jassy, Romania. The only book printed on this press was the Selections from the Psalter by Neophytos of Kausokalyvia (the work was reprinted in 1769 in Bucharest and in 1781 in Venice by Nikolaos Glykys), although it was to have been used to print many books. Compare what, among other things, the printer writes 'to the readers': 'many other books available for printing... will soon be printed by me.'

The decline of the Athonite Academy and the departure of Eugenios Voulgaris, accused by the monks of introducing dangerous new ideas, both affected the printing press, which shut down.

On Mount Athos this book is to be found in the libraries of the monasteries of the Great Lavra (ten copies), Vatopedi (five copies), Dionysiou and St Panteleimon.