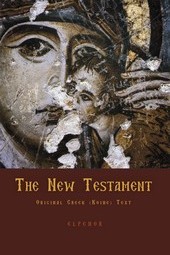 These fresco fragments have been detached from the walls of the ruined Chapel of the Metamorphosis of the Skete of Hagia Triada, a small church near the Monastery of Chelandari. Of its original decoration, dating from about 1260-70, there remains only a section of the decoration of the apse of the sanctuary, and a few fragments of frescoes, which are preserved in the monastery.

About half the representation of the Virgin decorating the small, hemispherical conch is still extant: she is depicted in the type of Nikopoios (Bringer of victory), holding between her two hands a medallion with a bust of Christ. The Virgin is flanked by the busts of two angels, in adoration, of which that on the left, turned three quarters towards the Theotokos, is still extant. Also extant, on the lower decorative band, are two full-length, frontal hierarchs: St John Chrysostom, in a poor state of preservation, and St Gregory the Great, Pope of Rome.

The principal artistic characteristic of these frescoes are the bold, painterly modelling of the faces, giving a sense of volume to the broad surfaces, the bright, vibrant colours, with the shades of green in vivid contrast to the rosy flesh tones with their warmer red highlights, and the expressive intensity of the faces. The sculptural effect of these frescoes links them with the paintings in the Church of the Apostles in Pec (ca. 1260) and especially with the frescoes at Sopocani (ca. 1265), masterworks of the painting of this era (Djuric-Zirkovic-Korac 1990, figs. 16, 23, 24. Djuric 1963, pls. XXXII, XXXV).

The fine quality of the painting in this chapel places these frescoes, in spite of their small size, among the masterpieces of monumental painting of the third quarter of the thirteenth century (1260-70). It is in fact extremely probable that the unknown artist commissioned to paint these frescoes was brought from Thessaloniki, one of the major art centres of the Byzantine Empire, to decorate this chapel (Djuric 1964, p. 63. Bogdanovic - Djuric - Medakovic 1978, p. 60).