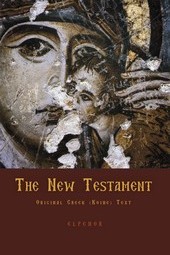 The Virgin is portrayed from the waist up on a gold ground in the type of Hodegetria. She holds Christ in her left arm, bending her head slightly, tenderly, towards him, and raising her right hand in a gesture of supplication. She wears an aubergine mantle with bluish highlights. Christ half reclines in her embrace, his right foot under his left leg, the bare sole upturned. He holds a closed scroll in his left hand and makes a gesture of blessing with his right as it emerges from his orange himation.

From an iconographical point of view, Christ's pose is particularly interesting: he is almost lying in his mother's embrace, as in the Anapeson, which, as we know, is a prefiguration of the Passion. His crossed legs and bare sole were also part of the semiology of the Passion as early as the thirteenth century and are characteristic features of a number of fifteenth- and sixteenth-century Cretan icons (Baltoyanni 1994, p. 137). So this icon is a variant of the Hodegetria type, with iconographical elements that allude to Christ' s future Passion. One of the earliest examples of this variant is an icon from the Sinai Monastery dating to the last quarter of the thirteenth century (Sinai 1990, pp. 116-17, fig. 62).

As regards typology and technique, the faces of the Virgin and Christ, with their broad areas of blushing ochre, the limited brown shadows, the rendering of the eye sockets and other facial features, and the tendency to break up the surface of the flesh with groups of supple linear highlights on the cheekbones, the chin, and around the mouth, reflect facial types and techniques identifiable in works of the second half of the thirteenth century (Weitzmann et al. 1982, fig. 261), such as the famous icon in Chelandari Monastery (1260-70).

On the other hand, the Virgin's clothing displays a supple softness in its western-style drapery (Weitzmann et al. 1982, fig. 219), while the mantle over her head seems somehow inflated, being rendered without the usual structural folds and convolutions and falling in undulating pleats only on the right side.

On the basis of the iconographical, typological, and technical features, the writer believes that this icon of the Virgin Hodegetria dates to the second half and probably the last quarter of the thirteenth century. Furthermore, Christ's apprehensive gaze and fearful pose, as he envisions his own future Passion in the Virgin's sorrowful face, clearly reveal the artist's ability to express his subjects' psychology and make this icon one of the most outstanding creations of its time.