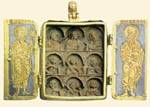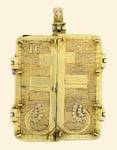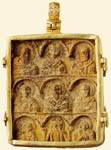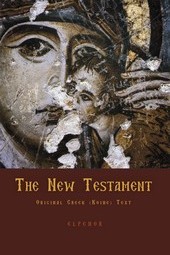 The core of this triptych is a small, double-sided icon, which was transformed into a triptych by the addition of a gilt frame and a pair of side panels. The Great Deesis is elaborated on both sides of the central wing, each of which has three registers of three frontal busts, all set beneath arched openings. In the top row on the front of the icon are the figure of Christ Pantokrator, flanked by the Virgin and St John the Baptist, in the familiar position of supplication. Next come two sets of martyrs, most of whom are identified by inscriptions engraved in uncials in the spaces between the arches: these are, from the left, St Demetrios and George holding a lance and a sword, respectively, and St Akakios (?), holding against his breast the cross of martyrdom; they are followed by the two Sts Theodores, both bearing shields, and probably St Loupos, holding the cross of martyrdom before him. The figures on the reverse side are similarly arranged, and represent St Onouphrios flanked by the Anargyroi, Cosmas and Damian, beneath two rows of hierarchs, whose names have been lost.

The theme of the Deesis with full-length figures of saints is found as early as the tenth century, on a series of ivory triptychs (Byzance 1992, pp. 233-4). These are exceptionally fine pieces, where martyrs, warriors, physicians, hierarchs and apostles are represented in a harmonic composition intended to express the hierarchy of Paradise as conceived by the owner of the triptych in his devotions. The representation of the Deesis in steatite works is generally somewhat more summary, principally in iconography (Loverdou-Tsigarida 1996, p. 463). While in iconography this triptych from the Monastery of Vatopedi is related to eleventh-century works, in style it is closer to the thirteenth century.

Although probably more recent, the metal wings transforming the original icon into a triptych are of the same decorative concept. On their inner faces they have full-length figures of the Apostles Peter and Paul; when closed, the two wings meet to form a foliate Anastasis cross in low relief. Elements of the iconography, style and inscriptions all indicate that the triptych was probably created either sometime in the thirteenth or in the very early years of the fourteenth century (Loverdou-Tsigarida 1996, p. 464).