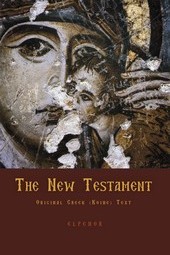 Scribe. Isaak.

The production of Greek manuscripts on Mount Athos in the Byzantine era began to assume significant proportions in the late thirteenth century, steadily increased during the fourteenth century, then waned during the fifteenth only to be followed by a revival in the sixteenth and seventeenth centuries (see 18.27, 18.28 and 18.29).

The oldest example from the first period of growth is Karakalou Cod. 20, written by Isaak at the same monastery in 1289-1290. As regards the history of the manuscript, it is worth mentioning the fact that, as the note on fol. 212 informs us, at some point it was removed from the monastery and then bought by Iakovos Malaspinas in Constantinople in 1492, who gave it back. Other manuscripts from the same period by different scribes survive in other monasteries.

Scribe's notes.

Fol. 205v: 'This book was written on the Holy Mountain in the year 6798 (= 1289/1290).'

Fol. 212: 'This sacred Gospel book was written with love and care and at my expense by me, the sinner Isaak, who desired to acquire it. It is now entrusted and dedicated to the venerable monastery of the holy, glorious and illustrious apostles of Karakalou for the remission of my innumerable sins. I beseech all those practising the spiritual life at this holy monastery, the hegumen and everyone else, not to remove the book from the monastery. May no-one under any pretext seek to take it from the monastery of my holy apostles, to give it away, sell or alter it, or keep it secretly for themselves, or erase these letters because they find them censorious, or cut out the leaf of paper, not wanting to see this included. May anyone who seeks to do such a thing be cursed by the [seven] holy ecumenical councils, may they share the lot of the traitor Judas and those who crucified Christ, and may they also be opposed by the holy apostles at their trial on the Day of Judgement.'

Fol. 212:

'In the year 7000 (= 1492)

'+ This sacred Gospel book is in the hands of Iakovos Malaspinas; he bought it in Constantinople for the commemoration of his soul and that of his son Georgios. When they die they wish indeed to be buried at the above-mentioned monastery. May whoever keeps this book and does not give it back be cursed by the three hundred and eight devout and holy fathers and receive the anathema of the seven holy councils.'

'+ Iakovos Malaspinas
his son Georgios and the deceased.
We send you this so that you might commemorate them in your liturgies.'

Script. Archaizing.